Summer Institute:
Kanazawa Japanese Language Summer Program
Approx. Price

$2700

Trip Date

May 15 to June 9, 2017
4 Weeks (28 days)

Location

Kanazawa City, Ishikawa


Description

Short-term Japanese Language and Culture Program 2016

Program

Application Deadline

February 10 2017
What to Expect/Highlights
Each year, Kanazawa Seiryo University hosts international students from overseas partner universities for a 4 week long Japanese language and Japanese culture program. Visiting students study Japanese in small classes and have many opportunities to interact with Kanazawa Seiryo University students, allowing for their Japanese language abilities to improve despite their limited period of time in Japan. Moreover, visiting students experience a wide variety of Japanese traditional culture, such as tea ceremony and calligraphy, and go on field trips to experience local culture, such as learning about Kanazawa's traditional craftworks.
Interaction with the university's Japanese students is also incorporated so that students can learn living Japanese language and Japanese culture. It is always a popular program among participating international students and gets high marks for satisfaction.
This program helps cultivates their Japanese language skills and also provides a rich experience of Japanese culture including a homestay experience. In addition, Kanazawa Seiryo University provides many opportunities to interact with Japanese students who support your study and events.
The program consists of an average of 18 study hours per week and includes planned activities in the afternoon as well as full-day trips on the weekends.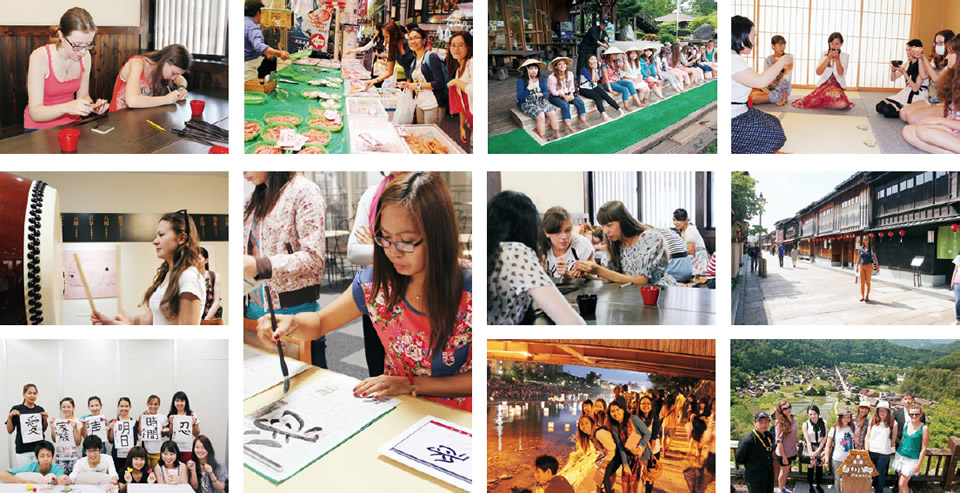 Short-Term Japanese Language and Japanese Culture Program Fee
Program Period
Monday, May 15th – Friday, June 9th, 2017 (For four weeks)
Fee :
70,000Yen (Students are responsible for the fee of some afternoon and weekend activities.)
Language Classes
9 classes×90min per week
Program levels: Beginner (N5), Pre-intermediate (N4), Intermediate (N3)
Social Activities and Events
Activities Included:
Japanese cultural activities: tea ceremony, traditional crafts (making gold-plated chopsticks), wearing Japanese traditional clothes, participating in Kanazawa's annual dance festival, watching traditional Japanese street performance, calligraphy
Kanazawa city tour with students, day trip outside of Kanazawa city, elementary school visit, prefectural office visit
Homestay two days, interaction with Japanese students
*Activities will be adapted to circumstances and can be subject to change.
In order to encourage students to learn outside of the classroom and develop lifelong friendships, the International Exchange Center organizes a variety of activities and social events.
Some of these include
Welcome party
Campus tour
Kanazawa tour
Wajima tour
Tea celemony
Japanese style flower arrangement lesson
Participation in Hyakumangoku Odori Nagashi
Kimono experience
Making Japanese sweets or experiencing traditional craft works
Interaction with Japanese Students
Internation with elementary school children
Japanese calligraphy experience etc.
Partner Organization/Location
Kanazawa Seiryo University
Kanazawa Seiryo University is a private university in Kanazawa City, Ishikawa, which is located in the Hokuriku region of Japan. Formerly known as Kanazawa College of Economics (a college with only an economics department), it was founded in 1967 by Inaoki Educational Institution. The name was changed to Kanazawa Seiryo University in 2002, and the graduate school was established the same year. In 2007, the Faculty of Human Sciences was added, and it is now a university with a Faculty of Economics, a Faculty of Human Sciences and a graduate school.
Kanazawa City, Ishikawa
Kanazawa is the capital of Ishikawa Prefecture, on Japan's central Honshu. It's known for its well-preserved Edo Period districts, art museums and regional handicrafts. Kenrokuen Garden, begun in the 17th century, is celebrated for its classic landscape designs incorporating ponds and streams. Adjacent Kanazawa Castle was built in the 1580s, following the defeat of Japan's only Buddhist fiefdom, known as the Peasant's Kingdom.
Accommodation and Transportation
Accommodations:
Off-Campus Dormitory (Inaoki Gakuen Kenshujo) with shared bedrooms, a shared kitchen and shared bathrooms. 15-20 mins walking distance from the campus
Transportation:
Roundtrip Airfare is not included in the program cost.
Program Costs
Fees:
The fees for this summer program is 70, 000 Yen (Approx. $850 CND)
Included in the Fees:
-Program Cost (Tuition, Activities, and field study)
-Accommodation
Not Included in the Fees:
-Roundtrip Airfare (Approx. $1800)
-Transportation from Airport
– Domestic Travel
– Educational Materials
– Meals
– Insurance
– Students are responisble for the fee of some afternoon and weekend activities
Application and Payment Process
Payment Process and Instructions:
Step 1:
You must apply to the Study Abroad opportunity by following the registration process set by the Partner Institute/Organization. Please refer to the information below.
Step 2:
You must register at Niagara College's Be World Ready Program in order to be eligible for the $500 BWR Grant as well as have our staff assist you with your travel arrangements and details.
Application for Kanazawa:
Application
Due date: Friday, February 10th, 2017
For detail and application, please contact us at or access to the following website
http://www.seiryo-u.ac.jp/en/study.html
General requirement:
The documents to submit are shown as below:
Application Form for International Students
A copy of Passport
Passport sized student's photo ×1
Application Form for International Students
A copy of Passport
Passport sized student's photo ×1
For Inquiry
International Exchange Division, Kanazawa Seiryo University
10-1Ushi, Gosho-machi, Kanazawa, Ishikawa, 920-8620, Japan
Phone +81-76-253-3896
Be World Ready Application Process:
Participate in pre-departure training
Upon Return: Complete BWR Travel Grant form